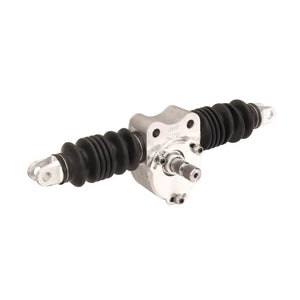 These Mini Sprint rack and pinion assemblies are made from the finest material available and fully assembled in the U.S.A.  They feature a Pinion that is on an eccentric, making it easy to adjust and also making it so that one housing can be used for all available ratios.  These kits come with ends that accept .375" rod ends.  Each unit is hand assembled and tested for quality assurance.
Moves 2-3/4" per rotation
5/8"-36 Input shaft (Accepts u-joint # 910-32273 and coupler # 910-30141)
Eccentric pinion
Accepts .375" rod ends
Made in U.S.A.