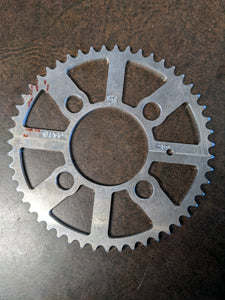 SHARP Performance Products Quick Change Kart Gear Set
SHARP Quick Change Gears
219 Chain, 38T-77T  for 1.25 and 30mm Axle 
NOTE: All 219 Gears are currently made to order. Standard orders will ship within 2 weeks. Large orders may take a little longer. 
These are custom machined sprocket halves not just a standard sprocket cut in half! Each sprocket half is precision machined out of 7075 Aircraft grade aluminum. We custom machine each half separate to eliminate the gap found in traditionally cut sprockets. 

Single tool fast gear changes
200% Reduction in inertia
50% Reduction in mass
MADE IN USA
Patent Pending PN/D3244301-2019
You can order as a complete set or individually. 
*Gear Guard is only used on one side of the hub closest to the RR wheel. The gear guard is to prevent the chain from being knocked off when sliding over a ridge or something similar in the track or exiting the track. I very seldom run a gear guard due to the reduced diameter of the sprockets. Some rules require them!  

CHECK OUT THE VIDEO CLICK HERE!