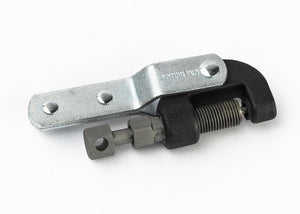 Motion Pro Chain Breaker is compact and has a handle that folds away for easy storage.
Original Motion Pro design
Fits 420 to 530 chain
Will push link pin completely through link / side plate.
Durable drive pin is heat treated for strength and wear resistance.
Will not work on EK 530 MVO/MVX chain
Max pin extension to drive out chain links is 18mm. The maximum pin extension required to drive out the chain link is determined by measuring your chains width from outside face plate to outside face plate.