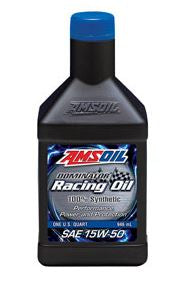 AMSOIL DOMINATOR® Synthetic Racing Oil provides superior performance and maximum protection in high-performance and racing applications. DOMINATOR is engineered to better withstand the elevated rpm, high temperatures and shock-loading common to racing applications. Its robust formulation, tested and validated by championship race teams, is designed to provide maximum horsepower without sacrificing engine protection. DOMINATOR provides straight-grade protection in a multi-grade formulation.
AMSOIL, the leader in automotive synthetic lubrication, produced the world's first API-qualified synthetic motor oil in 1972. Trust the extensive experience of AMSOIL The First in Synthetics® to do the best job protecting your engine.
Fights Engine Wear
DOMINATOR Synthetic Racing Oil's durable formulation resists viscosity loss due to mechanical shear to maintain a strong protective oil film. It is heavily fortified with zinc and phosphorus anti-wear additives to provide additional protection against scuffing and wear in severe racing conditions.
Maximizes Horsepower
DOMINATOR is formulated with a proprietary friction modifier to reduce energy lost to friction. It delivers maximum horsepower and cooler engine temperatures, promoting improved lap times and longer-lasting components.
Formulated

 

specifically for racing & high-performance engines
Robust

 

formulation resists viscosity loss
Proprietary

 

friction modifier maximizes horsepower & torque
Fortified

 

with anti-wear additives for extra protection
Excellent All-Temperature Performance
DOMINATOR provides maximum protection in temperature extremes. Its low pour point offers excellent start-up protection and provides less drag when the oil has not reached stable operating temperatures. At elevated operating temperatures, it maintains superior film strength. DOMINATOR's thermally stable synthetic chemistry resists the effects of intense heat common to racing engines to provide reliable protection for the duration of the race.