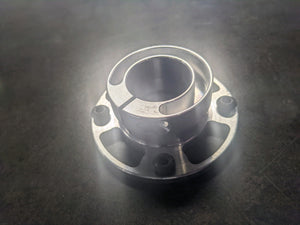 SHARP Quick Change Gears "Mini Gears"

Double Gear Guard Adapter 
Allows you to run guards on both sides of the sprocket. 
Normally we use the Gear Guard only on one side of the hub closest to the RR wheel. This adapter allows you to use on both sides.  The gear guard is to prevent the chain from being knocked off when sliding over a ridge or something similar in the track or exiting the track. I very seldom run a gear guard due to the reduced diameter of the sprockets. Some rules require them! Gear Guard is not included and can be purchased separately. 
CHECK OUT THE VIDEO CLICK HERE!