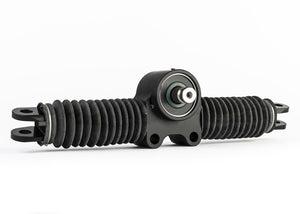 Designed to accept 16-194 or 16-1995/16-1996 steering arms or steering arms with a 3" distance from king pin center to steering arm mounting hole. Rack has aluminum clevises for a 7/16" rod end. 5/8"-36 spline. 3/8" mounting holes. Use with one of our splined steering columns and 16-600/16-032 universal.

Tighten the 3/8 mounting bolts to 20-22 foot-pounds and lock tite.
Box may fell a little tight until after the first race, this is due to the exact tolerances it is machined to and the effort to eliminate any play.
Ratio: One turn of steering wheel = 4.8" of travel of rack.
Total stroke of the rack is 4-1/8"