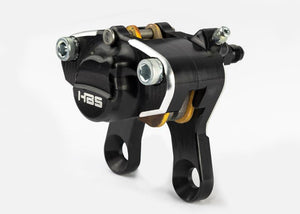 Includes brake pads. Tired of your left front brake caliper falling apart? Tired of changing shims? Tired of your brake pedal falling to the floor?
This is a two-piston front brake caliper specifically designed for the micro sprint application. No adapter plate is needed. It will bolt right on to your deluxe spindle. With the two 1" pistons it offers more braking power. The included high quality brake pads last a long, long time. This is a Hyper Racing exclusive product designed by Mike Dicely.
Note: A big bell wheel half (deep dish) is needed with use of this caliper. It will not clear a normal wheel half.