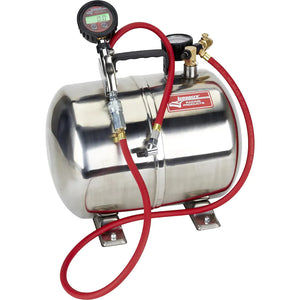 Portable Ultra Lightweight Polished Air Tank with Digital Filler Tire Pressure Gauge
Special Inlet Valve Fills Tank in Less Than 15 Seconds!
Saves time ~ quicker than dragging the air hose around the car. Tank tops off 4 tires. Exclusive special design inlet valve lets tank refill in 15 seconds or less.
Includes 0-60 psi Digital Quick Fill Tire Gauge